Employment First 10 Year Anniversary
---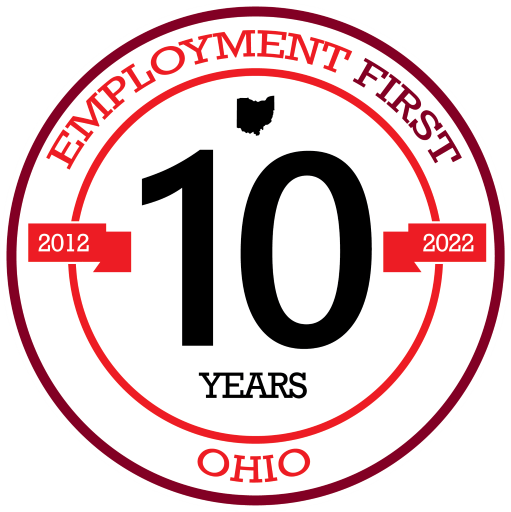 ---
Governor John Kasich officially launched Ohio's Employment First Initiative when he signed Executive Order 2012-05K on March 19, 2012. The Executive Order established statewide collaboration and coordination by creating the Employment First Taskforce and Advisory Committee and made community employment the preferred outcome for people with developmental disabilities.
---
Director Hauck talks about celebrating the 10 year anniversary of Ohio's Employment First initiative (Video).
As we celebrate 10 years of Employment First, Christine Brown shares her journey in becoming self-determined (Video).
---
In the past 10 years, provider agencies, schools, families, businesses, and people with developmental disabilities across Ohio have all worked together to shift expectations, and to ensure that access to the supports needed to have a job in the community are available and high-quality. We have shifted expectations for students with developmental disabilities transitioning from school, as well as developed new supports and state-of-the-art planning so that every working-age adult with developmental disabilities can explore their career options and seek jobs that fit their skills and interests.
There's still lots to do, of course, but celebrating our accomplishments at this 10-year mark allows all of us to look up from all our hard work and see how we have been able to begin transforming to a system and culture that creates opportunities and pathways for integration, independence, and full community participation.
Congrats to employers, providers, county boards and Opportunities of Ohioans with Disabilities staff, teachers, intervention specialists, families – and most of all, the jobseekers and employees with developmental disabilities who have succeeded and are flourishing.
More highlights and resources coming soon as we celebrate this milestone in March and throughout 2022.
Participate in the celebration by sharing employment stories and utilizing our logo